Cromwell, Bill (William) - CBS '78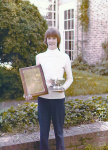 My boychoir years were the most challenging, rewarding, impactful, influential, and very best years of my life. I lived at Albemarle from 6th grade through 9th grade. I was part of excellence, and that's hard to repeat. Eventually, I became an English teacher and have been teaching 8th grade for 30 years. My wife, Gayle and I have also been married for 30 years, and we have two great kids: Adam, 21, and Paige, 19. My first dates with Gayle were at Albemarle in the summer of 1981. Poor thing! She never really had a chance. Also of note, my son Adam attended the American Boychoir from 5th grade through 8th grade in the last years of the school. The whole family had the rare privilege of reliving my glory years through him. Truly a blessing.
Over the last five years, I've produced and hosted a classical radio program called The Third Floor. I play a mix of choral, vocal, and instrumental music, and the show is carried by 10 stations nationwide. My upcoming retirement goal is to either find a paying home for the program and/or land a gig at a classical station as an announcer. Still have the voice and the ear!
Brothers, how lucky we were to have this once in a lifetime experience. I tremble to think where I might be or how I would have ended up without that amazing opportunity.