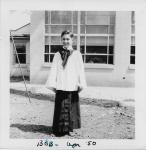 The American (Columbus) Boychoir: An Appreciation
With delight, I read that two Lehigh Valley boys have added their voices as students of The American Boychoir in Princeton, New Jersey.  That's my earliest Alma Mater.
Now, at 76, I gather and name my gratitudes. While most of these consist of individuals, there are a few institutions that deserve my profound thanks.
It's clear to me that the American Boychoir ( the Columbus Boychoir School) back in my years as a 5th, 6th, and 7th grader,  with all its forces as an institution, gave me something very special and enduring.
 In 1948, at age 10, I entered in the 5th grade with a good enough musical ear and a tremulous tone.  With three years of basic piano lessons behind me, I could read music, but not reliably sight-sing.  Probably the strongest trait I brought with me was a desire to perform.  During my 4th grade year, at a Cub Scout Talent Night, I'd sung Al Jolson and Eddie Cantor songs, to great, if very local, acclaim.
So, what did the Boychoir do with this little chirpy 10 year old from Bexley, the Columbus suburb 5 miles East of the Boychoir School's home on East Broad Street?
It taught me to take my musical, and specifically vocal gift seriously.  Seriously enough to use my voice singing twice a day, every school day, the hour before lunch, and again in the hour before dismissal.  It taught me to hear my own voice and those around me.  It taught me to pay attention at once to myself and to others, in the service of expressing thought and feeling musically.  I learned to sing with precision in Latin and French, languages still foreign to me.  Perhaps, as I think back to those years, it revealed to me the endurance, the survival, of beauty and the possibility of hope in a world newly aghast at the horrors humankind had committed.
In short, the Boychoir nurtured in me a belief in the value of my own gift, and fostered the importance of holding onto and developing that gift as a part of who I was then, and who I would become.
Now, 66 years later, I am still singing.  I entertain in retirement villages.  I've directed an a cappella octet for my Rotary Club.  I sing by and for myself at home, accompanying myself on the piano.  I sing with a small choir on Sundays at the Unitarian Church. In musical theatre at DeSales and at Pennsylvania Youth Theatre, I act and sing.  And in a jazz workshop, I've learned to scat.
And it was The Columbus Boychoir School, that provided the crucible for this lifelong passion.
All praises to Herb Huffman, the man who created the Boychoir School in 1937, to Don Bryant, who carried it forward, to the teachers and the voice-coaches and the cooks who consolidated us at our Princeton home.  Who helped us bring our combined gifts to delight audiences all over America.  And who, in a way, introduced America to us, the boys from Bexley and Steubenville and Trenton and Nutley.
All praises, American Boychoir, for you truly deserve your name as America's Boychoir.  Long may you make an important difference in the lives of your gifted boys, including the Lehigh Valley's two new choirboys, Rhys  and Jamie.  May you make a difference not just in their Boychoir years, but for their lifetimes.
Bob Cohen, American (Columbus)Boychoir School, '52
Bethlehem